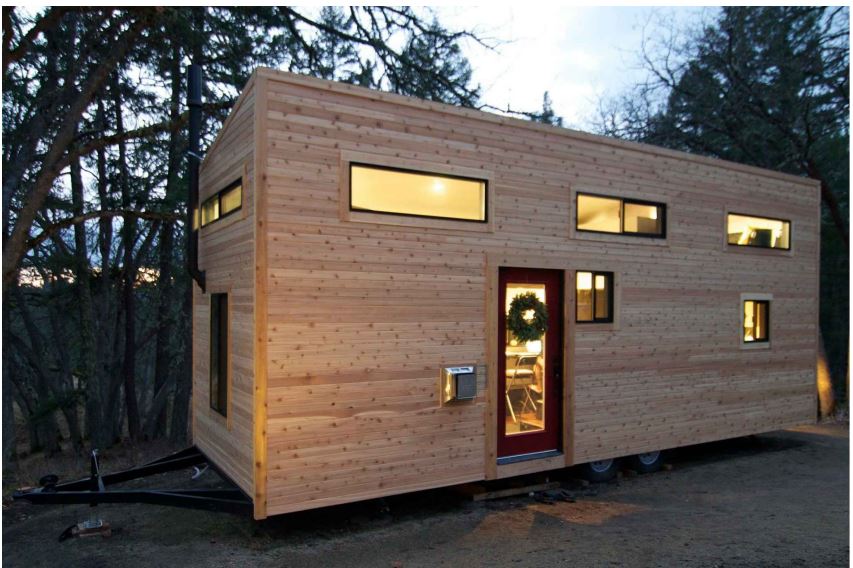 Southern Sky Homes is based in Tryon, NC and committed to facilitating dreams of freedom and simple living through Tiny House on Wheels (THOW) ownership. A commitment to quality, reliability, and styling is paramount. Beware: there are many "DIY" tiny home builders in existence, but it's it's important to choose a company producing a superior and trusted home. Welcome to our website! Have fun exploring
Southern Sky Homes was created in 2004 while owner, Tom Stenzel, was building single family homes in Virginia. He continually received repeat requests from families wanting a custom, reasonable, but exceptional home. A lot has changed in the housing market and consumers don't always want the biggest home in the neighborhood with the most upkeep, but the desire for integrity and quality remain. The portfolio of happy consumers allowed his team expansion into North and South Carolina where Tom's legacy continues as a licensed and insured residential and commercial contractor throughout NC and SC. The Tiny House on Wheels (THOW) addition began as a "fun project" blending years of custom home building, commercial building integrity into a product that provides freedom of movement, harmony with nature, and an eco-friendly footprint. Today, Southern Sky Homes is focused on THOW – and enjoys hearing all of the wonderful accounts of satisfied tiny homeowner.
Southern Sky Homes recognizes that your dream is just that – yours. Your home is YOUR abode and your place of belonging. Custom construction highlights ensure that each THOW provides customized features, while the integrity of the product remains steadfast.
The Southern Sky Design boasts:
two full-size lofts for sleeping
kitchen/bar eating area, full-depth kitchen cab
Two full-size lofts
Click laminate flooring throughout main floor and lofts
USB outlets throughout
TV Mount on Master Bulkhead
3 way light switches with recessed LED lights
Windows through out for 270 degrees of viewing
Master Loft cubbies for storing clothes
Smoke detectors in each loft
Kitchen/Bar eating area
Full-depth kitchen cabinets
Full depth kitchen cabinets with soft closing doors/drawers
Stainless single farmer kitchen sink
Stainless Frigidaire Gallery refrigerator
Stainless Frigidaire electric 18cuft refrigerator
Stainless Frigidaire Gallery gas 5 burner, self-cleaning, air fry, convection oven and cooktop
Stainless Frigidaire wall mount microwave
Solid butcher block countertops
Stainless faucets
USB outlets throughout
4 foot fold down kitchen table
USB outlet
Bathroom
Large 6ft Shower/Tub with pocket door entry into bathroom
Traditional flush toilet
28" Vanity with butcher block top and vessel sink
Bathroom heater and exhaust fan
On demand tankless hot water heater
Laundry
Washer/Dryer all in one combo (115VAC)
Living Area
Decorative stainless ceiling fan with light
USB outlet
18,000 BTU Mr Cool mini-split with remote control and wi-fi connectivity
Steel entry door with blinds in-between glass
Entry door has digital dead bolt lock
Energy efficient recessed LED lights throughout
Exterior Siding: Painted LP Smartside lap siding
Interior Siding: Vertical wood paneling
Roof: Metal
On-demand propane hot water heater
Mr. Cool Mini Split Heating/Cooling System (18,000 BTU) (Phone controlled)
White recessed LED Lighting fixtures throughout with dimmers
Painted white interior pine TnG walls and ceilings 
White Vinyl Double-pane windows throughout (Tempered glass)
Steel entry door with adjustable blinds between glass.
Exterior 20 amp GFCI outlet
Twin 30lb propane cylinders
The Southern Sky Homes Distinction:
NOAH Certified, inspected and documented
21,000lb triple drop axle trailer
High performance closed cell foam insulation in basement of trailer
AdvanTech 23/32-in tongue and groove OSB subfloor, offering superior strength and stiffness.
Wall studs at 16" O.C. not 24" like budget THOW builders 
Rafters are 2×8" for maximum strength and room for R30 insulation
Simpson Strong Ties throughout, ensuring reinforced adherence between structure and trailer
Zip System wall sheathing used for exterior walls and roof, creating a water-resistive barrier delivering unequaled moisture and air protection